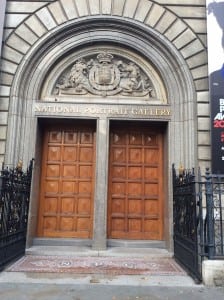 Our fitters are skilled at repairing and replacing every type of door closing unit in all types of location, from commercial and industrial units to public buildings of national importance. So get in touch if you have any of these problems with your doors:
NOT CLOSING PROPERLY
DROPPED OUT OF LINE
CAN'T BE LOCKED
SLAM SHUT, INSTEAD OF CLOSING SMOOTHLY
DON'T COMPLY WITH FIRE REGULATIONS
We have overhauled and replaced the door closers and floor springs in some of the country's most famous buildings, including the Houses of Parliament and Buckingham Palace.
At the National Portrait Gallery in London we've repaired the door closing units on the wooden entrance doors and the four leaf glass revolving entrance doors, as well as fire doors, and doors to galleries, lifts, changing rooms and toilets.
Overhead Door Closers
These are fitted to the tops of door frames and their arms secured to the top of the door. Like floor springs, they enable doors to open and close smoothly, but they are usually installed on lighter doors, or where floor springs can't be installed.
Floor Springs
Floor springs are hydraulic units that enable heavy doors to open and close smoothly. They are set in the floor underneath the door and hidden with a stainless steel or brass cover plate.
Other names for door closers are: Door Dampers | Door Hinges | Door Springs | Door Stops
Door Surveys
We can carry out a visual inspection of your doors and provide you with a written and photographic record of each door's make-up, closing mechanism, and condition, invaluable for its maintenance and repair.
Avoid expensive repairs and safety issues with a maintenance plan
By regularly checking all components, we can keep your doors in good working order. We'll also identify any potential problems, so they can be resolved before they become serious. This preventative measure saves money long-term and shows you've taken action to stop problems occuring.
Door Case Studies
Most of the door repairs we carry out are in buildings where security is vitally important. We are, therefore, unable to provide case studies on them.